Home
»
Welding Tools
» Emergent Plastics Fabrication Technology Presents Options Versus Precision Sheet Metal Fabrication Says Envision Plastics Expert
Emergent Plastics Fabrication Technology Presents Options Versus Precision Sheet Metal Fabrication Says Envision Plastics Expert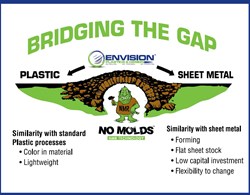 White Bear Lake, MN (PRWEB) November 26, 2013
When Doug Rosenthal, Envision's VP of Operations, discussed a new fabrication technology called NMR Technology with customers at his current employer, DuFresne Manufacturing (a Minnesota sheet metal fabricator), they were amazed at the fact they could get a product typically designed for metal or possibly injection molding with a process that involved no tooling or molds and at the same time offered the precision tolerances of sheet metal parts. Dougs plan was to offer a plastics fabrication service that would complement sheet metal, not replace it; and thats just want Envision Plastics does.
Envisions NMR Technology starts with a flat sheet of ABS, polystyrene, acrylic, or polycarbonate and CNC routs in a comparable manner as lasering sheet metal. The next basic step of NMR is forming, which is essentially utilizing a press brake type machine that uses heat to form its tight tolerance bends. There are other operations that aid in making a plastic housing using NMR, but the final basic step in the process is welding. In sheet metal, seams are fused together and in NMR, they are solvent welded to form the permanent bond. Based on that description, one would think NMR plastic fabrication would replace metal fabrication. However, according to Envision Plastics Sales and Marketing Manager, this is not the case, It is very rare for a customer to choose metal over NMR, or vice versa, without a very solid reason. Solid reasons could include the need for EMI coating with is an added cost on the plastic side and not needed with metal, or the application could be in a hospital environment where a lot of customers require that softer plastic look with their products.
Despite the alternatives each fabrication process offers to specific custom applications, there are several projects where customers want to integrate NMR Technology with metal. These examples can be seen with monitor supports (metal core, plastic shroud), diagnostic equipment (metal internal frame, outer plastic shell), or with simple plastic laminates attached to the metal chassis. In essence, its like plastic over molding without the mold.
While each project application has its specific end functionality, there are many routes to get there. NMR Technology provides this new option against typical manufacturing routes of metal fabrication, injection molding, and thermoforming.